Corrosion Inhibitors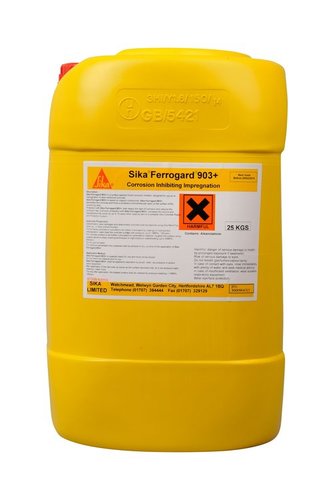 Corrosion Inhibitors
Product Description
Corrosion Inhibitors offered by us are known for having good penetration ability with long term protection. They create a monomolecular layer on the applied surface which provides protection against corrosion. These chemical compounds delay the onset of corrosion while reducing its rate. They are completely reliable in nature and are most commonly used for both below & above ground steel reinforced concrete structures. Corrosion Inhibitors keep water diffusion properties of concrete intact with its appearance as well.
Features:
Provides long term protection
Easy application
Good penetration rate & depth
Sika Ferro Gard-903 is a surface applied corrosion inhibitor, designed for use as an impregnation of steel reinforced concrete. Sika Ferro Gard-903 is based on organic and inorganic compounds. Sika Ferro Gard-903 penetrates the concrete and forms a protective monomolecular layer on the surface of the reinforcing steel.
Protection with Sika Ferro Gard-903 both delays the start of corrosion and reduces the corrosion rate. Corrosion protection with Sika Ferro Gard-903 - increases the service and maintenance life cycles by up to 15 years when used as part of a complete Sika Concrete Repair and Protection System.
Technical details


| | |
| --- | --- |
| Density | 1.13 (9.4 lbs/gal) |
| Packaging Type | Pail, Drum |
| Brand | Sika |
| Shelf Life | 18 months minimum in original, unopened container |
| Color | Pale Yellow |
| Packaging Size | 5 gallon, 55 gallon |
| pH Value | 11 +/- 1 |
| Viscosity | 15 cPs |
Trade Information
Contact us for information regarding our sample policy

20 kg Container
Mott MacDonald, Evaluation of Sika FerroGard, Ref. 26063/001 Rev A April 1996. Wolfseher & Partner, Materials Technological Investigation, Report No. 96.144.11 and Report No. 98.115.11.